This site contains affiliate links to products. I may receive a commission for purchases made through these links.
Unistellar eVscope is a smart telescope made by a company in France. It all started in 2015 when the idea of this smart telescope emerged. The prototype was presented on January CES Las Vegas in 2017, and in November, a successful Kickstarter campaign raised $2.2M. It was the largest tech crowdfunding campaign in France and the second largest in Europe.
The first units were shipped at the end of 2019. You will find a lot of different opinions on the internet about the Unistellar eVscope. If you ask amateur astronomers or astrophotographers on astro forums, they will laugh and tell you that it is an overpriced piece of garbage. 
And I get that. I had the same opinion about this telescope. However, after watching the video on Sixty Symbols where professional astronomer Michael Merrifield shows his eVsocpe, I realized that there are people who would be really happy with this telescope. Watch the video below to see what I mean by that.
Who Is This Telescope Intended For?
The Unistellar eVscope is intended for people who are interested in astronomy but don't have the technical knowledge about telescopes and astrophotography. It is a user-friendly telescope without the need to know the night sky or star alignment, polar alignment, and such things. 
The Idea Behind The Unistellar eVscope
You may think, why to spend so much money when there are already computerized telescopes, and they are much cheaper. Well, the problem with telescopes is that the vast majority of people starting with astronomy expect to see images of space objects as they see them on the internet, like pictures from the Hubble Space Telescope. Colorful with high details.
The problem is that even if you have a decent telescope and you are observing under the dark skies, the galaxies and nebulae in the eyepiece will be mostly black and white smudges. To get a high detail colorful image requires an astro camera with a sensitive sensor and hours of long exposure images.
People are disappointed after such an experience, and the telescope ends up in the basement or attic collecting dust. The only times there is a "wow" factor looking through the standard telescope with your own eyes is when observing planets or the moon.
How Does The Unistellar eVscope Work?
Unistellar eVscope is a Newtonian Reflector telescope with an aperture of 114mm (4.5-inch) using mirrors to produce an image. You can learn more about reflecting telescopes in my article: Refractor vs. Reflector Telescope.
This telescope has an eyepiece, but it is not the same as an eyepiece on a standard telescope. They call it a Live projection system. You are looking at the OLED screen inside.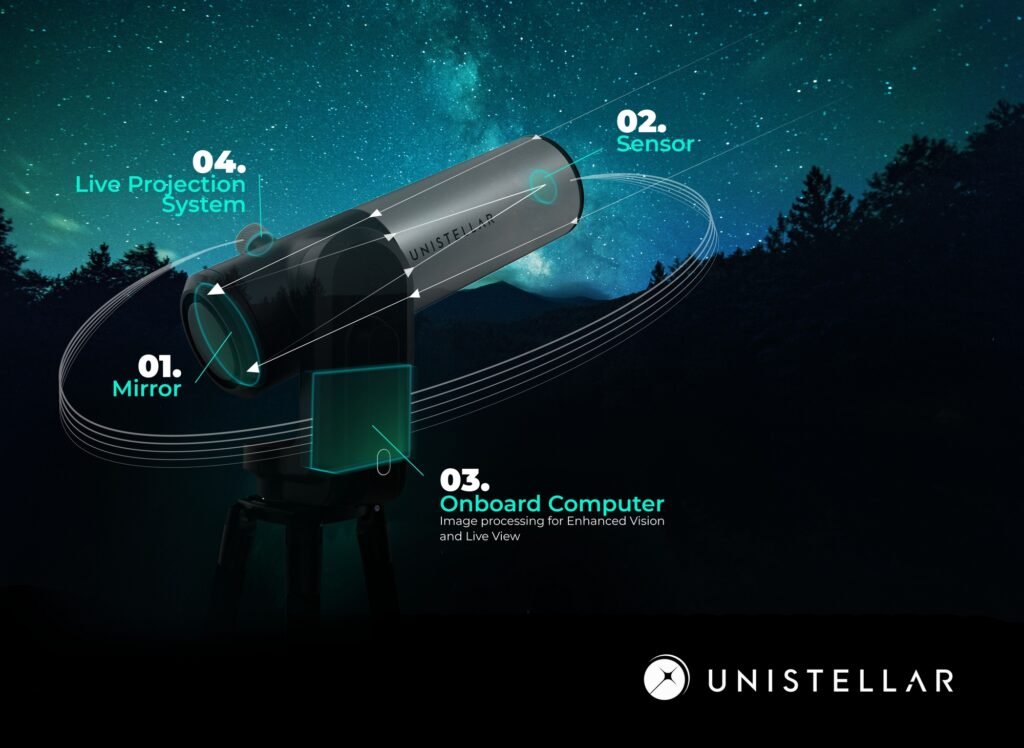 The telescope has a built-in computer with a camera sensor taking a lot of short exposures and stacking them, producing a color image with more details. It is called EAA – Electronically Assisted Astronomy.
The most significant difference from astrophotography is that you don't have to spend hours on one object, and you can see it right away. The longer you look at the object through the eVscope, the more exposures are stacked, resulting in a better image.
Don't expect the level of details you see on the astrophotography pictures, but as a beginner and casual observer, you will be amazed anyway.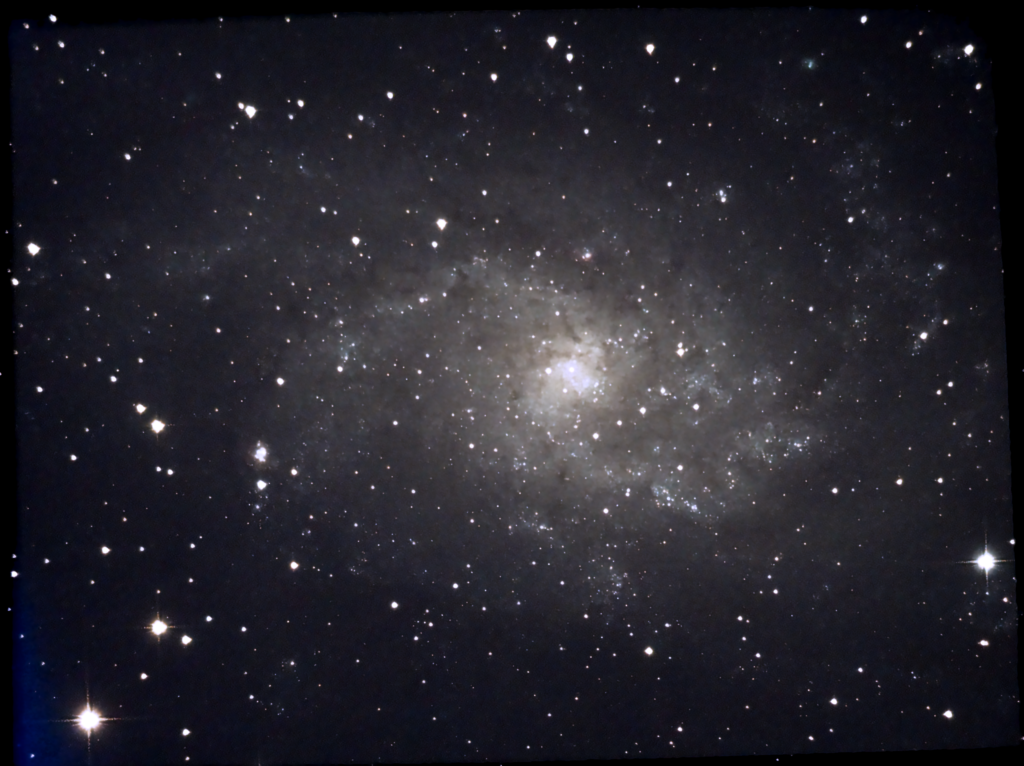 How To Use Unistellar eVscope
I think that another great advantage of this telescope is the ease of use. With the standard manual telescope, you need to know the night sky, and you have to find objects manually if you want to see them.
And even with computerized telescopes, you have to perform something called star alignment and polar alignment. It is not as complicated as it sounds, but it can be tricky.
With the Unistellar eVscope, there is no such thing. All you have to do before the stargazing session is to level the telescope and turn it on. The star alignment is done automatically by plate solving. But you don't even have to know what that is. The telescope will know where it is and where to point based on the stars.
There is no automatic focus, so you have to focus the telescope manually. For that, you have a Bahtinov mask included. Putting the Bahtinov mask on the telescope and pointing it to the bright star will create three lines/spikes on the star. The telescope is in correct focus after aligning the lines to cross in the middle of the star. Don't forget to take away the mask before observing. Check the video made by Galactic Hunter using the Bahtinov mask on the eVscope.
Another huge plus is that you can use it in the city where the light pollution is high. It is because of integrated noise and light pollution reduction while creating the image in the eyepiece. Sure, the image quality will be a lot better under the dark skies away from the city.
To control the telescope, you have to download the Unistellar app to your smartphone or tablet and connect to the wifi generated by the eVcsope. The app is freely available on Apple Store and Google Play. There is no hand controller like with other computerized telescopes.
Another cool thing about the Unistellar app is that you can see the image on the screen of your smartphone or a tablet, not only in the eyepiece of the eVscope. The telescope allows connecting more devices at once, so if you have a party, you can show what the telescope sees to more people at once.
Portability
There is a saying that the best telescope is the telescope you are using the most. Using a big heavy telescope with all the cables and a big external battery comes with the price that is portability. Unistellar eVscope is lightweight 19.8 lbs (9kg), including a tripod. You can take it anywhere you want.
You don't need any external power source and extra cables. It has a built-in lithium-ion battery that can last up to 10 hours. Perfect for camping trips under the dark skies. All you need is a fully charged eVscope and smartphone. It also comes with a cool backpack.
Technical Specifications Of The Unistellar eVscope
Telescope
​Optical Magnification: 50x
​Digital Magnification: up to 400x (150x recommended maximum)
​Max Magnitude: <16 in the medium quality night sky in under a minute, up to 18 in excellent conditions in a few minutes
​Resolution: 2 arcsecond
​Aperture: 4.5in
​Focal Length: 450mm
​Motorized Alt-Az Mount with extreme tracking accuracy thanks to Automated Celestial Tracking with Feedback
​ Weight: 19.8 lbs (9kg) including tripod
Electronics
​Sensor Technology: Sony Exmor with NIR technology
​Sensor Model: IMX224
​Display: OLED screen (Ultra High Contrast Ratio with True Black)
​Battery Life: up to 10 hours
​Wireless Connectivity: ​Wifi for smartphone control
​Compass
3 axis accelerometer​
GoTo System
Autonomous Field Detection for a fully automated star alignment procedure in 10 seconds
Automated Celestial Tracking with Feedback
Automated Pointing (GoTo)
​Catalog of 4,800 objects to choose from
​Detailed information on 120 astronomical objects
​List of recommended objects based on the time, date, and location of the controlling smartphone
​Citizen Science Missions: Asteroid occultation events, 
Upcoming: exoplanet transits, transient event follow-up (supernovae and comets), and more
Unistellar eVscope Alternative
If you don't have the money for this telescope or simply don't want to spend it, but you still want the same experience as with the eVscope, you can build almost the same setup for less money.
It will require a little knowledge about the telescope and some technical skills. So let me tell you exactly what you need for it.
Telescope
For the telescope, I recommend Celestron NexStar 130SLT. It is a computerized telescope on the alt-azimuth mount with a slightly bigger aperture than the eVscope, which is good.
This telescope setup requires to do star alignment, so it knows where it is and where to point. You can check my article on using an alt-azimuth computerized mount or review of some telescope made by skywatcher: Skywatcher Explorer 130P.
Camera
Now, you also need a camera to use with the telescope. The eVscope is using the same camera sensor IMX224 as ZWO ASI 224MC. It is a dedicated astro camera.
Software
You have to use a laptop because the camera has no display. Any laptop with USB 3.0 is ok, and USB 2.0 will also do. The software you need is a free astronomy software called SharpCap. After connecting the camera to the SharpCap, you have to use a Live Stack feature to get images like with the eVscope. Lazy Astronomy made an excellent video tutorial on how to do Live Stacking in the SharpCap:
The great thing about this alternative setup is that you can do much more with it compared to an eVscope. But there is a learning curve, and it is not so easy to use as the eVscope. 
Price Comparison
Unistellar eVscope – $2,999 
Alternative Setup – $750 excluding the laptop + technical skills
Conclusion
As I said in the beginning, I had a poor opinion about the eVscope like many others. But after realizing that this telescope is not aimed at us amateur astronomers or for astrophotography, I came to the conclusion that this is an amazing telescope for the general public. 
It is the right direction because it will attract new people to astronomy, which is always a good thing. 
You will find many mixed reviews about this telescope, some very bad and some too biased. Some people are comparing this telescope to astrophotography, which is wrong. If you want to compare it to something, it is EAA – Electronically Assisted Astronomy. Its purpose is for visual use.
Telescopes are complicated to use for many people, so my honest opinion is that the Unistelalr eVscope is a huge step in the right direction for bringing people closer to astronomy and space.